With just a week left of April I think it's a good time to start thinking about a bit of planning for next month. And what better way to get those plans down than with my free printable May calendar page. You can find the link to download the planner page at the bottom of this post.
Free Printable May Calendar
I've designed these planner pages in a clean and simple style with enough space for appointments and day to day reminders. I've also included a box for your number one focus for the month.
You can then pick your most important goals for May. Make them realistic and achievable and then feel that glow of satisfaction as you tick each one off.
If you want to go deeper with your May planning, I have a weekly planner, a daily planner and a weekly meal planner all free to download in my subscriber resource library. If you'd like to become a subscriber you can sign up below. There's also an exclusive 2021 dated version of this calendar in the library.
I've been using my first one of these planners during April and I've kept it by my desk to remind me what I wanted to focus on this month.
So, did it help my achieve my goals and have a super productive April?
Well, I've managed to tick off 3 of the five goals I set, with a week to go for the last couple. I wanted to lose 7lb, but have managed to lose the same 3lb twice. Does that still count?
I did find that by only choosing a handful of goals to focus on, it's kept me from flitting around all over the place trying to decide what to do next. And I've actually finished a couple of things I've been procrastinating over for too long. So I'm happy, and I'm looking forward to making some May plans this weekend.
What Can You Do in May?
Here are a few ideas of things you could choose to plan in May
5 Things to do in May
Try out a new restaurant – it's (hopefully) getting warmer so May could be the perfect time to try a new restaurant with outdoor space for a bit of al fresco dining.
Visit a farmer's market – have a look online and see if there are any farmer's markets in your area. Stock up on some local produce and sample some homemade goodies.
Have a Star Wars movie night – celebrate "May the fourth be with you" with your favourite Star Wars film.
Fire up the BBQ – make the most of the evenings growing longer with a garden feast. (May 16th is national BBQ day)
Go to a Drive-In cinema – we might not be able to visit the indoor cinema at the moment so why not re-visit an old classic at your local drive-in?
5 National Days in May
3rd May – National Garden Meditation Day, take some time out for yourself and relax in the garden. Or visit a local park.
8th May (second Saturday in May) – National Miniature Golf Day, meet up with some friends for some outdoor fun.
20th May – National Pick Strawberries Day – find your local strawberry picking farm and spend an hour or two collecting strawberries in the sunshine.
29th May – National Paperclip Day – Honour that simple but oh so useful invention that is the paperclip by sharing your favourite tips. Check out these 25 paperclip hacks for some unusual paperclip uses.
31st May – National Speak in Complete Sentences Day – see if you can get through the day without saying or typing any of those abbreviations and acronyms that are second nature to us now. IYKWIM.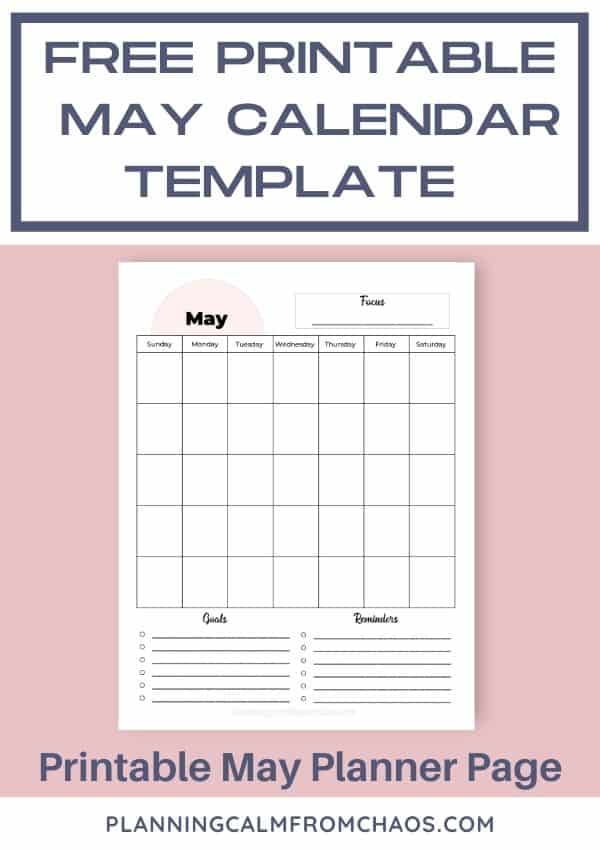 Here are the links to the May calendar pages, available in 8.5×11″ and A4.
I hope you enjoy your May planning.