Keeping fit and healthy is more important now than it has ever been. But while we are stuck at home it's also harder than ever. Our normal routines have been ripped apart, gyms are shut, and time outdoors is restricted. It's time to create some new workout habits that will work with what is the new normal.
Here are 11 ways to help you build new workout habits while stuck at home.
1 Exercise at the same time each day
Working out from home can be a disheartening task especially if you are used to the electric atmosphere of the gym. That is why it is important to come up with effective ways of sticking to your exercise routine regardless of where you are.
It is still possible to stay motivated to exercise during a lockdown. Start by setting a daily reminder and sticking to it. You can start the day off with a 20-minute exercise session. This is a great way of remaining focused for the rest of the day.
If early mornings aren't your thing decide which time is best for you. Just try to stick to the same time each day to help build the new habit.
2 Join and follow an online workout program
There are lots of free workouts being offered online at the moment. Whether on Youtube or via a gym website currently offering free training. There is something to suit everyone.
Good Housekeeping has a list of 25+ Fitness Studios and Gyms Offering Live-Stream Workouts During the Coronavirus Outbreak. This list has free workouts ranging from HIIT to toning, dancing, yoga and more.
Choose something you think you will enjoy and draw yourself up a weekly schedule to follow.
3 Find alternatives to your gym workouts
There are specific exercises that are limited to the gym and are impossible to try out at home. For example, the kind of exercises that require lifting weights, machines etc.
If you do not have the right equipment to carry out weight-lifting exercises you can try other forms of free weight exercise. There are many free apps and websites that can teach you alternative home-based exercises that can be easily carried out with no equipment. There are even websites which show you how to make your own home equipment using materials available at hand.
You might like to try a 30 day plank or squat challenge to build up your strength.
4 Continue with some of the exercises that you do at the gym
While some exercises you do at the gym are impossible to do at home, there are still a few that you can continue with.
Continuing with some of your gym exercises at home can help keep you motivated to exercise. It is also a great way of forming a lasting workout habit.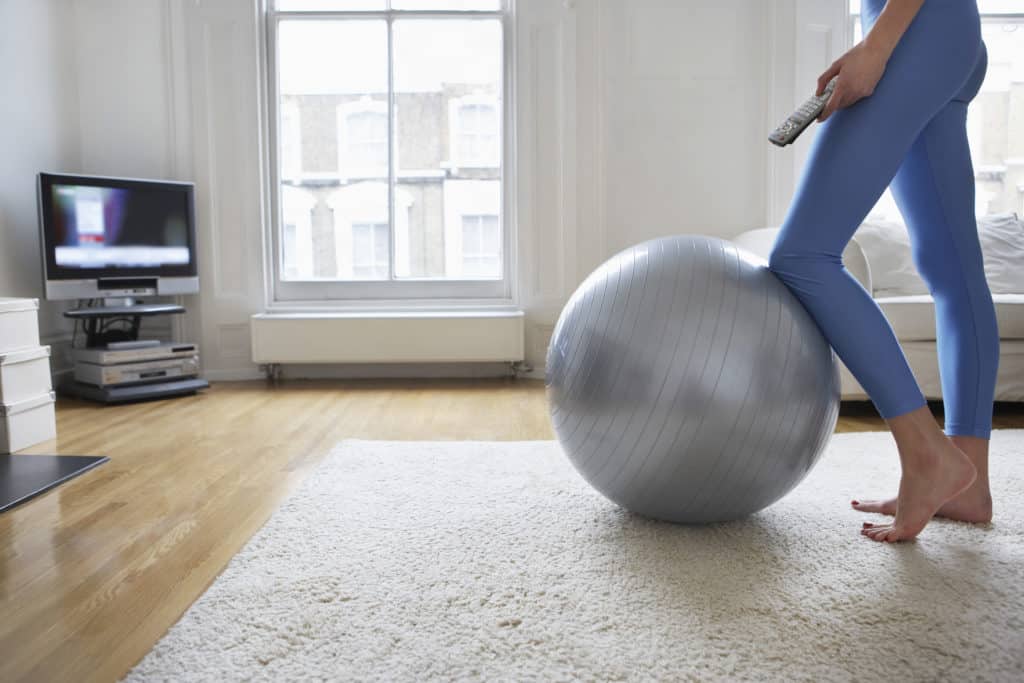 5 Keep a record of your progress
Keeping a record of what you have achieved or what you are achieving will help to keep you focused.
You could record your weight the first day you begin exercising and keep a log as you continue with your workout routine. Losing weight can make you realise just how effective exercising from home is and hopefully help you to stick at it.
If you have a Fitbit or similar equipment that measures your heart rate, keep a track of that and watch it come down as you progress with your routine.
6 Find a workout buddy
Accountability is another way of ensuring you do what you plan to do. Find someone you can exercise with at home and hold each other accountable.
You can set goals or commit to exercising daily for an hour or so. It will all depend on what you both agree on and what you can do.
If you have no one to workout with at home, you can find workout buddies online or using workout phone apps.
7 Try to keep your routine varied
Varying exercises can help keep you interested in your workout schedule. It can also get rid of the boredom that you may otherwise face if you remain idle.
See if you can cover the five main elements of fitness: aerobic exercise, strength training, core exercises, balance training, and stretching.
8 Make working out a priority
Making sure you stick to your new workout schedule requires that you make working out a priority.
We all have top priorities and staying safe and healthy during a pandemic is one of them. Therefore, exercising routinely should also top the list.
If you find you are making excuses to miss your workouts, schedule them for early in the day. Then you can enjoy the feeling of satisfaction all day long, knowing you've already achieved your goal.
9 Pay attention to your diet
Paying attention to your diet is the only way of enjoying the full benefits that working out offers. You don't want to spoil all your hard work with a snack that lasts just seconds.
Make sure your exercise routine goes together with proper, healthy meals and avoid junk snacking which is tempting when stuck at home all day.
10 Reward yourself
Make an effort to reward yourself whenever you manage to achieve a goal.
Small rewards can be a great way of keeping you determined to exercise.
Think of treats that won't ruin all your hard work. A luxurious bubble bath or a new workout top are a couple of good ideas.
11 Wear proper workout clothes
When working out from home it is important that you wear proper workout clothing. What you wear should be the same attire that you would wear when going out to a proper gym.
Wearing proper workout gear will tune your mind to that activity and make you feel, and experience exercise the same way you would in a normal gym.
So what are you going to try out to help you build new workout habits while stuck at home? Start with small changes and build up gradually.
I've got my rebounder out and have been following some Youtube workouts 3 times a week.
You might find it useful to read my post 10 ways to build a new habit and make it stick for more habit bulding tips and information.