Following on from my previous post, BODY SHOP ULTIMATE ADVENT CALENDAR REVIEW – PART 1 we've now opened all the boxes in the calendar. So here's my roundup of all the surprises we received.
My Body Shop Ultimate Advent Calendar Review 2018, part 2
Days 9-11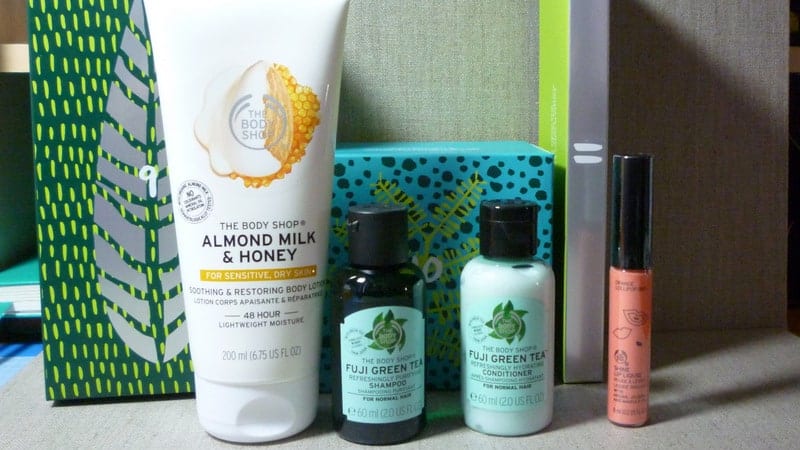 Almond Milk and Honey soothing and restoring body lotion 200ml – RRP £8
"Enriched with organic almond milk from Spain and Community Trade honey from Ethiopia, Almond Milk & Honey is specially formulated for sensitive, dry skin." I'm looking forward to using this in the new year. It smells lovely and is a generous, full size product.
Fuji Green Tea Refreshingly Purifying Shampoo and Conditioner 2x6oml – RRP £4
"Enriched with revitalising Japanese green tea, our refreshing shampoo cleanses and removes impurities, basking your hair and scalp in an invigoratingly fresh feeling." I love the clean, fresh smell of the Green Tea range and used this shampoo and conditioner last summer so I was excited to find this little pair in today's box. One I'm going to save for the warmer weather.
Shine Lip Liquid in Orange Lollipop 8ml – RRP £6
This one's not for me. Not too sure I want orange lips.
Days 12-14
Spa of the World Adriatic Peony Body Wash 60ml – RRP £3
Luxuriously velvety bath and shower cream, infused with peony extract from the Adriatic. This smells gorgeous and can be used in the bath or shower. I can't wait to give this a try.
Camomile Gentle Eye Make-Up Remover 60ml – RRP £3
Suitable for sensitive skin and contact lens wearers. A nice little bottle but I don't really wear eye make up so will let my daughter nab today's gift.
Spa of the World Japanese Camellia Velvet Moisture Body Cream 50ml – RRP £7
"Camellia oil has been used by Japanese women since the 8th century to help gently soften and moisturise skin. The exquisite scent of this pure and elegant flower allows mind and body to reconnect with a moment of profound peace." I do get extra excited when I open Spa of the World products as they smell so wonderful and are that little bit different. This smells fresh and slightly floral without being overpowering. I love it.
Days 15-17
Moringa Shower Gel 250ml – RRP £5
Containing seed oil from hand-picked moringa pods. Another winner for me as I really like the delicate floral scent. Perfect for Spring.
Drops of Youth Bouncy Sleeping Mask 90ml – RRP £25
"This refreshing overnight facemask has been formulated to address the first signs of ageing. Enriched with edelweiss stem cells, the innovatively bouncy, gel-cream texture moulds itself like a second skin for instant hydration. Wake up to soft, youthful looking skin that feels plumper, replenished and renewed."
Wow! A full sized pot from the Drops of Youth collection worth £25. This range is perfect for my age so I can't wait to see if it can work some magic. My favourite product yet.
British Rose Petal Soft Hand Cream 100ml – RRP £12
My daughter and I both love the British Rose scent and have used this hand cream in the past. This large tube is going to last a nice long time too.
Days 18-20
Shea Nourishing Body Butter 50ml – RRP £6
A rich body butter with a nutty scent keeps you moisturised for 48 hours. A nice change from some of the floral scents that we've just opened.
Drops of Youth Youth Cream 50ml – RRP £22
"A velvety air-whipped moisturising cream to leave skin feeling smoother, more supple and refined with a youthful-looking bounce. Infused with a blend of 3 plant stem cells."
Another expensive Drops of Youth product. One for daytime and one for night time. Perfect.
Matte Lip Liquid in Tahiti Hibiscus 8ml – RRP £7
"Specially formulated to glide on effortlessly like a gloss and set with the rich creamy colour and velvety touch of matte lipstick."
Looks like a decent quality product and a better colour than the orange from day 11.
Day 21-23
Rose Dewy Glow Face Mist 60ml – RRP £6
"With reflective particles, this mist gives your skin a dewy, illuminated glow for an instant confidence boost."
The Body Shop brought this range of mists out in the Summer and I kind of wanted to try them but wouldn't pay £6 a bottle. I'm pleased they've included this in the calendar.
Moringa Body Yogurt 200ml – RRP £8.50
Perfect to complement the shower gel from day 15. These new body yogurts are meant to absorb instantly and leave you hydrated for up to 48 hours. Another new product I'm looking forward to testing out.
Himalayan Charcoal Purifying Glow Mask 75ml – RRP £17
"This invigorating charcoal face mask draws out impurities and refines the appearance of pores for healthy-looking skin with a glow that shows."
I received a free sample of this in the summer and my daughter pinched it straight off me. I'm definitely going to make sure I try this out before she claims it. Another top quality product.
Days 24-25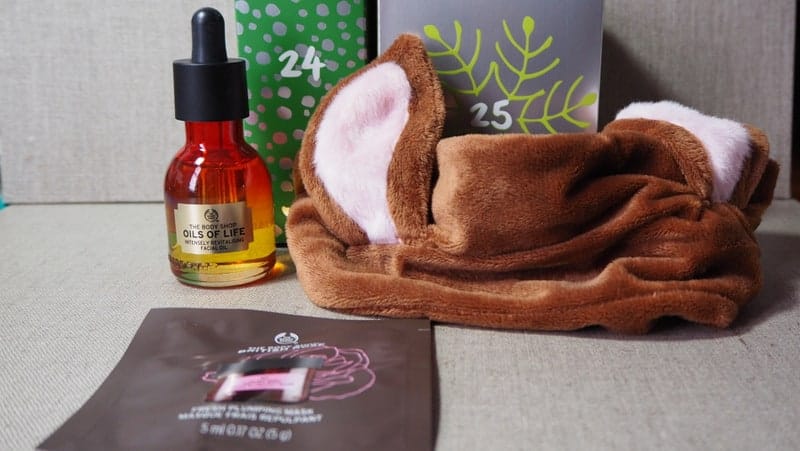 Oils of Life Intensely Revitalising Facial Oil 30ml – RRP £30
"Potent daily facial oil infused with 3 precious seed oils from around the world to give new life to your skin"
£30 for this little bottle! You can use it before your face cream or add a drop to your daily cream. This gets really good reviews on The Body Shop website so it's another one I've got high hopes for.
Dani the Baby Deer Headband RRP £4 and British Rose Fresh Plumping Mask Sample (full size product £17)
I knew there was going to be one of these headbands in the calendar and I knew my daughter would want it so I bought her one of her own for Christmas day. They are cute and comfy and a sweet final gift. The British Rose mask was a nice little extra too.
Conclusion
We've had lots of fun opening this calendar every day and there have been some fantastic products for both of us. I've totted up the value and it comes to £218.50. When I bought the calendar for £99 I also got £20 of vouchers back so that's pretty good value for a huge variety that will keep us going all year round.
The Body Shop do a couple of cheaper calendars too, around the £45 and £65 mark, but the reason I went for this one is because of the number of luxury products. You very rarely get deals on Spa of the World and Drops of Youth range so this was the perfect chance to see what they were like.
Would I buy it this calendar again? Yes, I definitely would, but I can see this little lot lasting a while so maybe in a couple of years it will be time to replenish our stocks with another one.
Here's the link to my Body Shop Ultimate Advent Calendar Review 2018, part 1.