Walking is a simple way to get more exercise and improve your health, often costing next to nothing to do. But you might want to consider investing in some fitness gear for your walking routine to enhance the experience.
What Kind of Walk Are You Doing?
In order to know what fitness gear you might need for your walking routine, you need to think about what type of walking you will be doing. This includes where you plan to walk, for how long, the weather conditions, and if you tend to get bored on your walk.
Will you be going on a hike? If so, the type of shoes you wear and what you bring with you will likely be different. Are you going to be walking in the heat? You will definitely need to bring a water bottle with you and should probably wear moisture-wicking clothing.
Choosing the Right Walking Shoes
Make sure you choose walking shoes that fit the shape and size of your feet. They need to feel good on your arch, and be flexible and comfortable for you. Don't just dig out the ancient athletic shoes that have been sitting in your closet, mostly unused. Feet can change over time, so these shoes might end up causing a lot of pain, especially on longer walks.
Get good, high quality walking shoes that offer flexibility, cushioned insoles, and have room for proper movement of your toes.
For more information on walking shoes you might like to read my post How to find the right walking shoes.
Arm Band for Your Phone
You might find it useful to use an arm band, which goes around your arm and holds your phone in place. This keeps your hands free and prevents you from accidentally dropping your phone – you definitely don't want that! There are different kinds of arm bands, most of which are pretty inexpensive. Just test it out at home first to be sure it is secure before you actually use it outside.
You can also get fitness belts with room for your phone and keys if you are not keen on wearing an arm band.
Wearing a Fitness Tracker
People often don't realise how many advantages there are to wearing a fitness tracker while they walk. There are so many reasons to use one. It is going to track all your steps, letting you see how active you are not just on your walk, but throughout the whole day. It will tell you how many calories you burned during your walk to help you reach your goals, and some of them include your route if you are walking outdoors.
If your tracker includes a heart rate monitor you can track the improvement in your overall fitness as your walking routine progresses.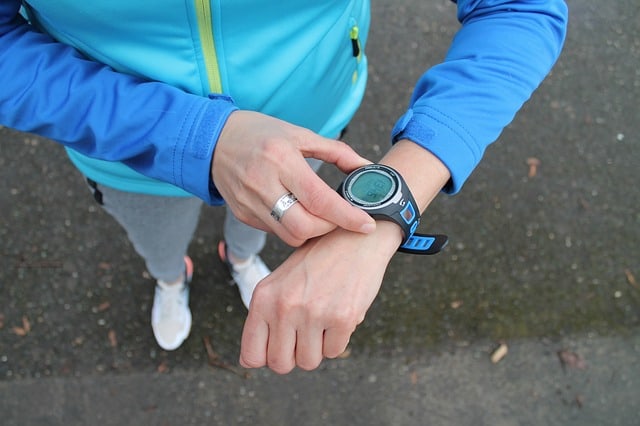 Fitness Clothing for Walking
For your fitness clothing, you want to be comfortable, so look beyond just finding an outfit that is stylish. Make sure the leggings are comfortable, not too tight, but not too loose. You shouldn't have to tug at them or adjust them constantly, which is why high-waisted leggings are ideal.
Wear a supportive sports bra if you are female, making sure it fits you and provides enough support particularly if you tend to do a little running during your workout. For socks, you want them to be cushioned, but not so thick that your shoes are too snug.
You might also want to consider headwear. Depending on the time of year, a cap to keep the sun off your face in the summer or a warm hat in the winter could be beneficial items for your walking wardrobe.
---
You will probably find you already have some suitable fitness gear for your walking routine. Certainly enough to get you started. I hope this guide gives you some ideas for a few useful additions to make your walking an even more enjoyable experience.
---
Are you wanting to develop a new walking habit or do you fancy setting yourself a challenge? Then you might be interested in my free 21 Day Walking Challenge. With 21 days of walking tips and advice it also includes a free printable challenge calendar and exclusive walking journal.
Check it out in my blog post 21 Day Walking Challenge or you can sign up below.