This year I treated myself and my daughter to the Marks and Spencer Beauty Advent Calendar 2018 and also The Body Shop's Ultimate Advent Calendar. We both couldn't wait until December 1st so we could start discovering all the lovely surprises each day. Hopefully there won't be too much arguing over who gets to use what. Here is my Beauty Advent Calendar review, days 1-8
This advent calendar cost £35 when you spent £35 in store or online.
Here are my thoughts on the first week's bounty.
Day 1
1 x 50ml L'occitane verbena shower gel – value £3.20 (250ml bottle costs £16).
Prized for its citrus aroma, L'Occitane verbena is a light shower gel that soothes and nurtures even the most sensitive skin. The shower gel smells lovely and lemony and at £16 for a full size bottle I'm expecting using this to be very luxurious experience. I'm going to save this for my holiday bag as it's a handy size. A very nice bottle too. Definitely happy with today's product.
Day 2
1 x 4ml Filorga time-filler eyes – value £12.53 (15ml tub costs £47).
A correcting eye treatment inspired by the latest medical techniques for younger and wider-looking eyes.
Wow, I couldn't ever spend £47 on a pot of eye cream but this has some good promises. It states on the Marks and Spencer website "fewer wrinkles, firmer eyelids, and faded dark circles making your eyes look wider". I'm going to start using this one today to see what difference it makes.
Day 3
1 x 15ml PRAI ageless throat & décolletage crème – value £7.50 (50ml tub costs £25).
Take your neck from turkey to swan in 7 days! According to Marks and Spencers' website, "This luxurious crème, developed specifically for the throat and décolletage attacks and fixes crepiness, double chins, droopy jowls and turkey neck using our exclusive sepilift technology for visible results in 7 days!!!" The reviews for this product are excellent and made me have a good look in the mirror to see if my neck was showing signs of going turkey yet. Thankfully I'm still a little young for that but I'll keep this pot to one side to ward off any early signs.
Day 4
1 x 4ml Eyeko lash alert mascara – value £9.50 (8ml size costs £19)
A smart little half-size mascara. I'm not a mascara wearer though so will pass this one on as I'm sure I can find someone who will appreciate it.
Day 5
1 x 10ml Shay & Blue black tulip natural spray fragrance – Value £10 (30ml bottle costs £30)
Black tulip is a statement of style, with the unique floral freshness of snowdrops and cyclamen, black tulip and plum. It's underpinned with the smooth warmth of white chocolate and woods.
This is quite a sweet and sugary perfume. I can definitely get the white chocolate scent. I like it for a change as I don't normally go for sweet perfumes but I don't think I'd buy a bigger bottle. Shay & Blue do have quite an interesting sounding range so I might have to go and check out some of their other fragrances next time I'm in Marks and Spencers
Day 6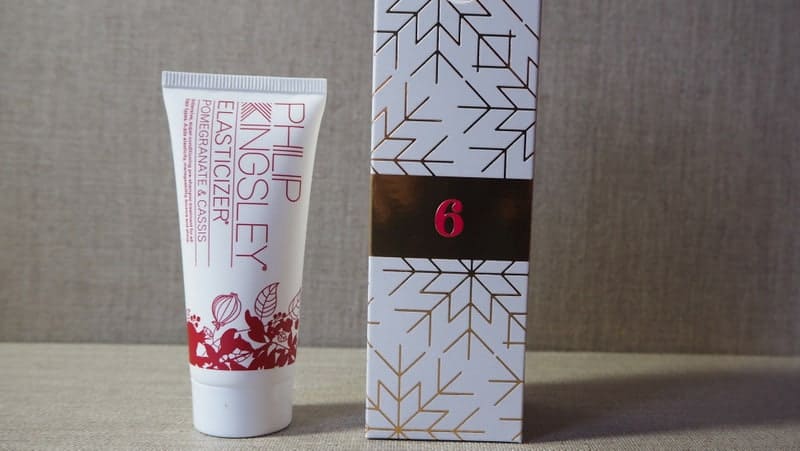 1 x 40ml Philip Kingsley pomegranate & cassis elasticizer – Value £11.20 (£21 for 75ml)
Elasticizer is an intensive super conditioning pre-shampoo treatment which adds elasticity, bounce and shine to all hair types. Infused with the luxurious and soothing scent of pomegranate and cassis.
I'm definitely going to give this one a go as my hair needs all the help it can get.
Day 7
1 x 12ml Skyn Iceland berry lip fix with wintered red algae – Value £12
This is a full size tube is another winner. My lips get quite dry this time of year I'm opening this straight away. It smells lovely and my lips certainly feel softer. I'm not sure I could spend £12 on a lip balm so I'm going to make the most of today's gift.
Day 8
1 x 12ml Leighton Denny high performance nail colour – Be My Berry – Value £12
A great quality nail varnish in a deep Christmassy red. I really like this, it's just a shame my nails aren't in the kind of shape to wear it.
So that's the first 8 days of gifts opened. The value so far is almost £78, not bad at all. A fantastic selection of luxury, very usable products and even the ones I know I won't use I will find a good home for. Can't wait to see what we'll open next week.
Check out part 2 of my Beauty Advent Calendar review.