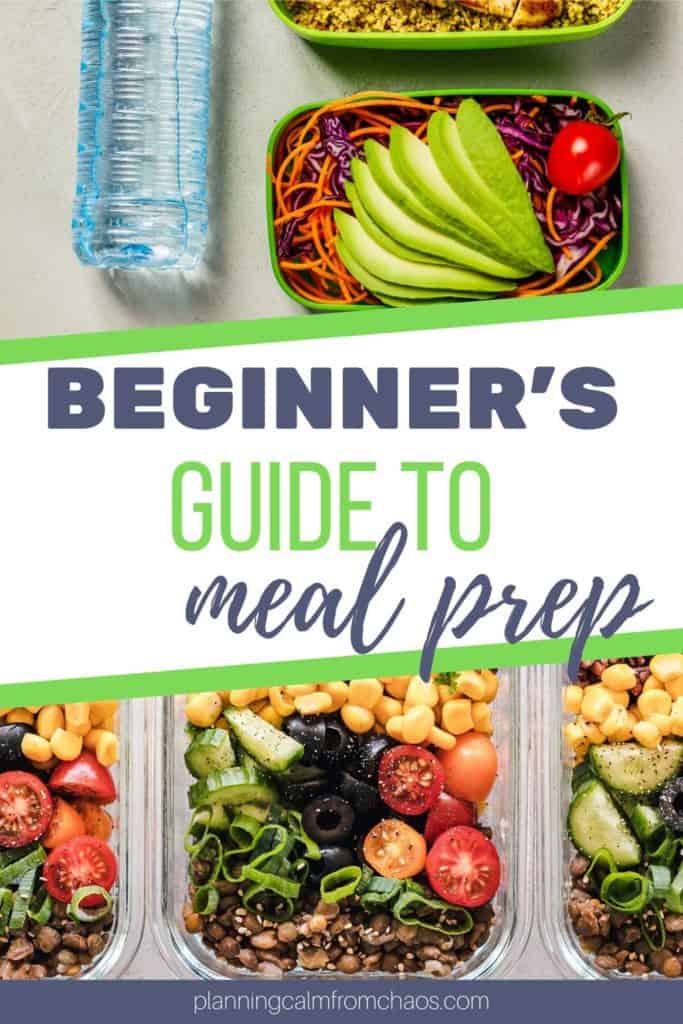 I've been dabbling with meal prep a bit lately. Fed up with feeling guilty after ordering takeaways because I don't feel like cooking every evening. Regularly sabotaging my diet with quick snacks and chocolate at lunchtime because I can't decide what to eat. Instead I've been making some healthy snacks and tasty salads in advance for my lunches. I've also been making extra meal portons a couple of times a week to dish up on busier days. Or just to have at hand if any of the kids aren't going to be around at dinner time with the rest of us. And I can honestly say I've felt multiple benefits from just a few tweaks to our weekly meal routines. It's certainly something I can see myself doing more and more of.
Here is my Beginner's Guide to Meal Prep with some helpful tips to get you started.
So, What Exactly is Meal Prep?
Meal prepping is where you schedule and plan time to prepare some or all of your meals. You then pack them up so they are ready for you to grab with minimal fuss during busier times of the week.
You can tailor meal prepping in several ways to suit your lifestyle, including:
Meals for one

– preparing and portioning out single servings of meals to keep in the fridge or freezer to last you the week. Try to mix and match ingredients to keep things interesting. Meals for one can be handy for people living on their own or if you are following a specific diet, different to the rest of the family. They will also be helpful if you want to make sure your teenage kids have a healthy meal to grab if they are eating at different times to the rest of the family.

Family meals

– get really organised and cook several meals simultaneously. Perhaps a casserole in the slow cooker, a curry on the hob, a bake and some roasted veggies in the oven. Allow them to cool then pack away in your fridge or freezer and your work is pretty much done for the week, short of a little bit of reheating.

Batch cooking

– making up larger portions of meals when you cook them so you have a duplicate meal ready for another day. I always try to make up a double batch of chilli or curry each week. I then either freeze half for another week or keep it in the fridge to serve with pasta or rice one day. And then maybe a jacket potato a couple of days later.

Bulk prepping ingredients

– chop up your veggies and/or meat when you buy them. Store them in the fridge or freezer so they are ready for you to throw into the saucepan for quick meals saving you time and washing up.

Prepping breakfast or lunch the night before

– save yourself money, time and stress by making up something like overnight oats ready for breakfast. Or a tasty packed lunch to take to work the next day
What are the Benefits of meal prep?
Meal prep is so popular on Instagram and Pinterest at the moment and it's easy to see why. With so many mouth watering pictures of smartly arranged meals all neatly portioned out for the week ahead.
There are so many more potential benefits to meal prepping than it just looking pretty and making you feel super organised.
Check out my Top 7 Benefits of Meal Prep post to read more.
In short, meal prepping can:
Save you money
Save you time
Help you to control your portion sizes
Give you more meals for less effort
Help you to eat a healthier diet
Eliminate food waste
Help to reduce stress levels
How to get started with meal prep
Now you've decided to give meal prep a go there are a few important steps to follow to help everything run smoothly.
Check your storage space and containers

– The last thing you want to find after spending your time chopping and cooking is that you have no space in your fridge and freezer to store your meals. And you definitely want to make sure you have enough containers in the right sizes to pack your portions up safely.

Think what meals you want to prep in advance

– do you want to make up all your dinners for the week or just a few for your busier days? Maybe you want to prepare some snacks and lunches too. Or do you just want to prepare your ingredients ready to cook on the days you need them?

Decide when you are going to meal prep

– Sunday is often a good day to prepare your meals. If you are off work and your family are too, you could get everyone helping out.

Make a list and go shopping

– Go through your meal plan and write out all the ingredients you need. Order online or go shopping the day before is my advice. The last thing I want to do after a busy shopping trip is get straight into a long stint in the kitchen.

Get prepping

– if you are going to be making several meals you might want to draw up an action plan to follow. Put some music on and shout out to any willing helpers. Make sure you have all the ingredients and cooking supplies out ready to use, and get cooking.
Tips for Meal Prep Success
If you have followed all the steps above hopefully your meal prep will be a stress-free and enjoyable experience. Here are some more useful tips to get you started.
Start slowly

– Don't make your first meal prep so hard that you can't face doing it again. Begin with one or two simple meals that you know how to cook and that you enjoy. Make a note of what worked for you and what didn't go so well. Gradually add more recipes as it gets easier and you'll soon have a go-to list of recipes that you know you can rustle up quickly and you will look forward to eating later.

Make the most of your equipment

– Try to plan meals that you can cook at the same time. If you have a slow cooker get that going first while you are doing the rest of your prepping. Find a recipe or two you can put on the hob and make the most of all your oven shelves.

Fruit and veg

– While things are cooking cut up any fruit and veg you might like to eat throughout the week. This can include portioning up any salads or smoothies ready to grab when you need them.

Don't forget dips and dressings

– salad dressings and dips like houmous and salsa will keep well in the fridge for several days so make up a couple of your favourites to jazz up your meals and keep things interesting.

Include some healthy snacks

– Don't forget to include some healthy snacks to stop you reaching for chocolate and crisps when you're feeling peckish. Hard boil half a dozen eggs. Make up some simple energy balls. Weigh and portion out nuts and seeds. Divide houmous into pots with veggie sticks chopped ready to dip.

Bulk buy meat when it is on deal

– Look out for what ingredients are on deal each week. You can either make up a batch of meals with what you've bought and freeze them or freeze the meat raw ready to use another time. It will work out cheaper than buying food at full price each week.

Repeat ingredients

– If you've bought a bag of veg or a bunch of herbs, try to find several recipes that will use them all up. This will help reduce food waste and should be cheaper too.
So, What are you waiting for?
I hope my Beginner's Guide to Meal Prep has given you some good ideas to get you going.
There are so many benefits to meal prep that make it worth the effort. Start with small changes and you'll soon be saving yourself time and money. You'll also feel less stressed and the whole family will be eating healthier too.