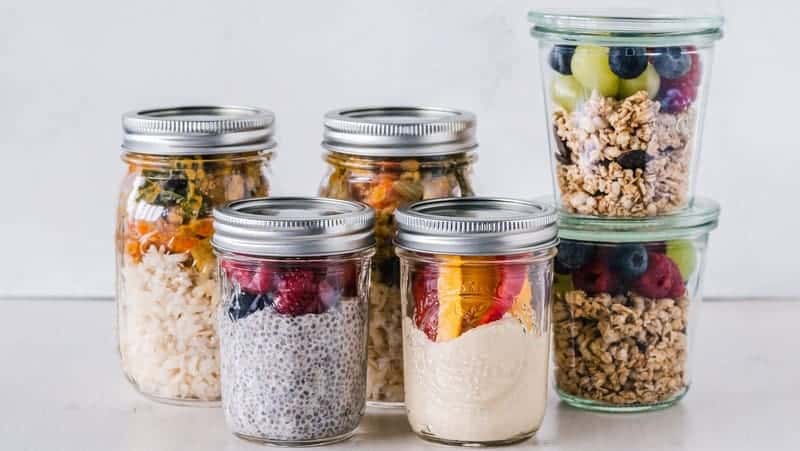 Meal prep is huge on places like Instagram and Pinterest these days with so much inspiration and delicious looking food all neatly prepared in smart looking containers. So what are the real benefits of meal prep?
I couldn't help being drawn in by how organised and efficient it all looks and have recently been having a little go. I know I struggle with deciding what to eat at lunchtimes so I've been bulk making a few days of tasty salads up in advance. I've also been making double batches of our meals once or twice a week and freezing them in individual portions. And I've noticed the benefits just from making these slight changes to my routine. It's something I can see myself doing more and more of.
Here are my top 7 benefits of meal prep
1. Saving Money
Meal prep can save you money in a number of ways
If you know what you are going to be cooking for the week you can buy exactly what you need
You can bulk buy what is on deal at the supermarket and plan your meals around what is cheapest or in season
You won't be tempted to spend money on last minute takeaways when you come home from work exhausted and not knowing what you want to cook
Preparing your lunches in advance can save you a fortune on premade sandwiches and other convenience meals
Using your oven for batch cooking saves energy as you won't be using it so much throughout the week
If you know what you will be spending on groceries each week you will find it easier to plan your budget
2. Saving Time
Whether you are pre-chopping ingredients for several meals at once or cooking whole meals in advance for the week you will making things quicker and easier at the end of each day when you are tired
You will be spending less time thinking about food and worrying about what you are going to eat and cook each day
You will spend less time shopping for food. A once a week shop is much easier than having to make extra trips to the supermarket on your way home from work each evening, wondering what you are going to need
Blocking out a couple of hours at the weekend will save you hours in the kitchen during the week
You can save time by using your crockpot, microwave, hob and oven at the same time to cook different elements
The more you meal prep the more efficient you will become at it
3. Portion Control
Dividing your meals into portions stops you eating second helpings or dishing up extra large plates full.
This will make your meals go further and save you from consuming too many calories.
4. You Will Get More Meals For Less Effort
It takes less effort to prepare a double batch of chilli or curry than it does to cook a new meal each night. Even just cooking a couple of extra portions of each meal will sort you out for lunches for the next couple of days.
It also means just the one time washing up any dirty pots and pans.
5. It Is Healthier
When you meal prep you know exactly what you are eating. You are more likely to be using fresh ingredients and have control over portion size and added salt, fat or sugar.
Having a healthy meal ready to eat when you are hungry removes the need to wait until you have thought about and prepared your meal. This could prevent you from overeating because you are ravenous by the time you dish up your dinner.
It removes temptation to reach for the takeaway menu or choccy bar. If your meals are there ready for you to grab it makes it easier to stick to your diet or healthy eating plan.
6. It Eliminates Waste
You will know exactly how much of each ingredient you need and can use up any extras before they go off.
You can plan your meals to use up whole packs of things like herbs that don't keep for long.
7. It Can Reduce Stress
Meal prep means less decision making and less to think about each day knowing your meals are alredy taken care of.
You will feel good knowing you have mader healthier choices and are saving money too.
You will also likely have more time to relax and do the things you enjoy each day.
With so many benefits to be gained by including a bit of meal prepping in your weekly routine I think it's definitely worth the initial effort. And there are so many different ways to meal prep that can suit just about any lifestyle.
Now you can see some of the amazing benefits of meal prep, check out my Beginner's Guide to Meal Prep for some great tips to get you started.