This week I'm sharing my free weight loss reward printable cards I've created.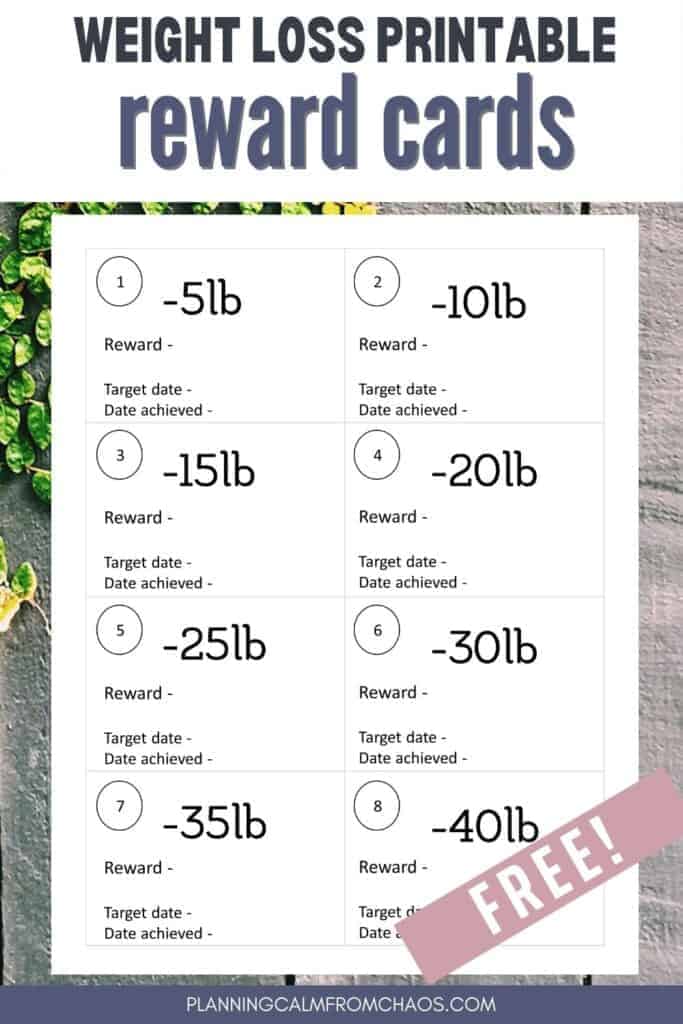 I'm determined to get the weight off this year. And with fewer temptations due to lockdown 3, maybe it will be easier.
I wanted to motivate myself with some nice rewards along the way so I made these printable weight loss reward cards. I've clipped them to my wall above my desk to keep my goals to the front of my mind.
There is a card for each 5lb of weight loss as I thought that was an amount that never feels too out of reach. I've given myself 3 weeks to lose each 5lb which is definitely achievable.
And I've earned my first reward a few days ahead of target so can treat myself to some new loungewear to wear during lockdown. Quite a big reward, I know. But since starting a diet is often the hardest part I think a decent first reward is an acceptable incentive.
What are some good rewards for weight loss?
So what sort of treats are good as a reward for weight loss?
You could reward yourself with that meal or pudding that doesn't quite fit in with your weight loss plan. I know I've put a healthy takeaway with the hubby as one of my treats a little further down the line. Some takeaways are healthy right?
Or perhaps you want to treat yourself to something that will help towards your final goal. Maybe some new workout gear or a kitchen gadget.
Another idea would be something to pamper and enhance your wellbeing. Like a luxury candle or new bubble bath.
10 good ideas for weight loss rewards
a luxury healthy meal
new trainers
a manicure
a new haircut
a new handbag or purse
a movie night
a new book
an online course
an afternoon to yourself
a magazine subscription
Free weight loss reward printable cards
So that's where my printable weight loss reward cards come in handy.
There are 8 on a page to print and cut out. One page has 5lb weight loss targets. The other is blank to set your own targets or carry on if you have more to lose. Or you can use them for a totally different type of goal incentive.
Firstly, decide how much weight you'd like to lose. Then choose a reward for each card and set yourself a target date to help keep on track. Put the cards somewhere you look often to help keep focused. Mine are on the wall above my desk where I see them throughout the day. You could keep them in a pile on your desk, or stick them on the fridge door.
The PDFs come in 8.5 x 11″ and A4 size for easy printing. Here are the download links.
8.5 x 11″ weight loss reward cards
I hope you like them and they help to motivate you on your weight loss journey. What sort of rewards are you going to treat yourself to when you achieve each goal?
To help with my weight loss I've set myself a 28 day walking challenge. If you'd like the free printable for that too check out my 28 day walking challenge post.