Summer is fast approaching and, if you ask me, there's not much that can beat an afternoon in the garden with a cold drink and a good book. And that's what gave me the idea for this week's freebie. These Summer reading list printable bookmarks. The links to download can be found at the end of this post.
I can't wait to go browsing through my bookshelves, picking out a few books to enjoy in the sunshine.
How about setting yourself a challenge of 10 pre-chosen books to read over the summer? Or you could be a bit more spontaneous and pick and list them as you go.
I've created 3 designs to choose from that you can print on one sheet of A4 or 8.5×11″ paper or card. If, like me, you have more than one book on the go at a time, why not use all 3?
Some nice thick card would be the easiest choice for printing. Otherwise just use paper and stick the bookmarks onto some card before cutting out.
To make them super durable try laminating the bookmarks after writing out your reading list.
If you're after some tips to help you get more reading time, why not check out my blog post How to find more time to read
If you're after some inspiration on what to read this summer I found this list from Beyondthebookends.com had some great ideas. Ultimate Beach Reads 2021.
Summer Reading List Printable Bookmarks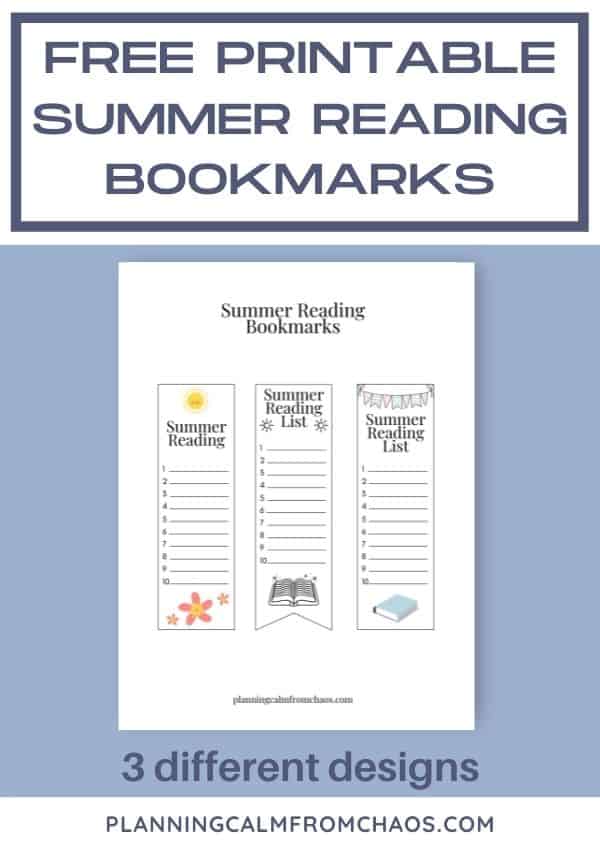 Here are the download links for the bookmarks, available in A4 or 8.5×11″ size PDFs. Each bookmark measures just under 2″ x 6″ in size.
I hope you like them and I hope you're as excited as I am about choosing which books to read over the summer months!