I've created a new freebie this week to help with productivity and time management. It's a printable daily schedule template with a large portion for hourly time blocking.
It also includes a water tracker, to do list, shopping list, and space to plan some exercise and to reflect back on your day.
The download links for the template can be found at the end of this post.
What is time blocking?
Time blocking is a method of time management where you divide your day into set blocks of time. You then allocate specific tasks, appointments or activities to those specific times on your calendar.
Rather than randomly working your way through a long to do list, you assign a time for the important tasks of the day. And this can help you commit to and improve your chances of completing those tasks.
How do you time block your day?
Brainstorm your tasks. Spend some time listing the most important to-dos for the next few days.
Prioritise maybe 3-5 per day and forget about the rest for now.
Fill out any unavoidable appointments or commitments first and then you will see what blocks you have left for other tasks.
Consider when you are most effective at specific types of tasks. Are you more creative in the morning? Do you feel more energetic in the evening? Do you find yourself putting certain jobs off over and over? Try scheduling them first thing and just get them over with.
Allocate your tasks to specific time blocks. Over estimate the time you think you'll need, especially at first.
Act on your time blocking and get all your top jobs done.
Monitor and revise. Did you get everything done? Did you have time to spare? What could you improve on next time?
What are the benefits of time blocking?
Time blocking improves your chances of achieving your goals. Where writing down your goals can improve your chance of achieving them, scheduling a time to complete them makes success even more likely
It helps you to plan more realistically. You only have a set number of hours per day. Instead of having a sprawling list of tasks you have no hope of getting through, time blocking helps you to focus on the most important tasks and think about how long they might take. This can help prevent over commiting and overwhelm
Time blocking minimises distractions. You don't have to waste time deciding what you need to do next. You have what you need to focus on clearly planned out so can just get on with it.
It can help keep you focused and on track. If you know you only have a set amount of time for a task you'll be less likely to waste time browsing online or checking emails at the expense of more important things.
You'll feel a greater sense of control. Having dauntingly long to do lists, with no idea when you are going to get them all done, can cause anxiety, tension and sleep problems. By choosing and allocating tasks to set times you can gain a sense of control over what you want to get done without having to fret about everything else.
Printable Daily Schedule Template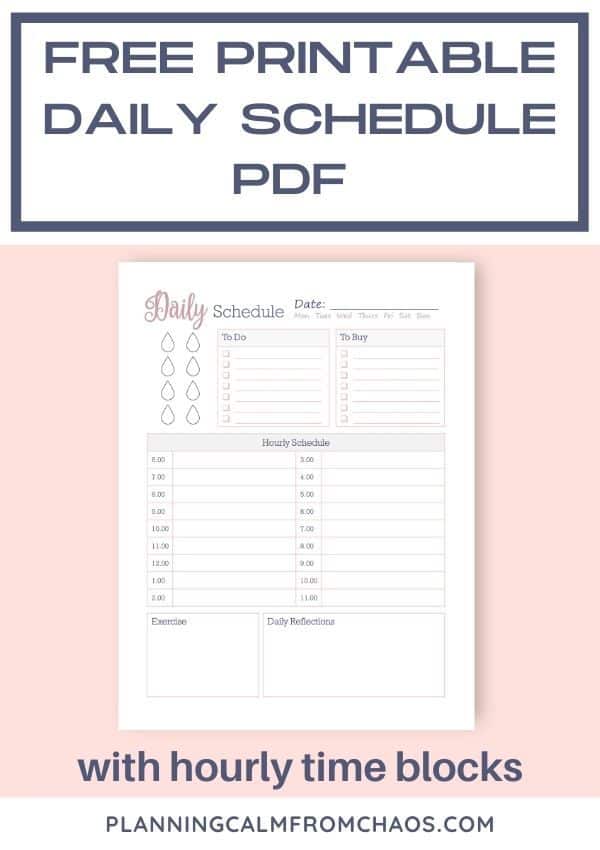 You can give time blocking a try with my free printable daily schedule template available as A4 and 8.5×11″ size PDFs. Click on the links below to download.
If you'd like more free downloads including planners, recipe cards, quotes and trackers why not become a subscriber. You'll receive a weekly newsletter with latest updates and freebies along with the password to access my resource library where I keep all my downloads in one place along with some subscriber-only exclusives. You can sign up below.